Welcome to Raivat Banquet Hall, where luxury meets versatility, catering to your every event need. With a generous capacity of 75-100pax, our exquisite venue sets the perfect stage for unforgettable parties, meetings, conferences, kitty parties, and seminars.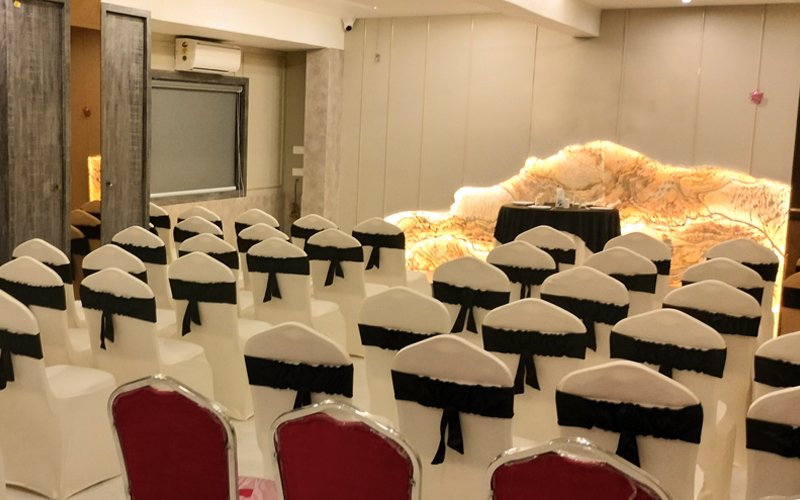 Step into a realm of elegance as our dedicated team transforms our banquet hall to suit your unique occasion. From lavish parties to intimate gatherings, our versatile space adapts seamlessly to your desired ambiance. Immerse yourself in opulence, surrounded by tasteful decor and a warm, inviting atmosphere.
For corporate events and conferences, our state-of-the-art facilities cater to your professional needs. With advanced audio-visual equipment, high-speed internet connectivity, and comfortable seating arrangements, we ensure a seamless experience for your important meetings and seminars. Our attentive staff is always at your service to guarantee that every detail is flawlessly executed.
Looking for a fun-filled social gathering? Our banquet hall is the ideal setting for lively kitty parties. Indulge in laughter and camaraderie as you enjoy delectable cuisine prepared by our renowned chefs. Whether you're celebrating a special occasion or simply relishing the company of friends, our flexible space accommodates your every requirement.
No matter the occasion, our professional event planners will work closely with you to curate an experience that exceeds your expectations. From personalized menus to themed decor, we leave no stone unturned in crafting a memorable event tailored to your vision.
Located in a prime location with ample parking, Raivat Banquet Hall offers convenience and accessibility for your guests. Allow us to be your partner in creating unforgettable memories, leaving a lasting impression on your attendees.
Choose Raivat Banquet Hall for your next gathering, and let us elevate your event to new heights of sophistication, professionalism, and enjoyment.